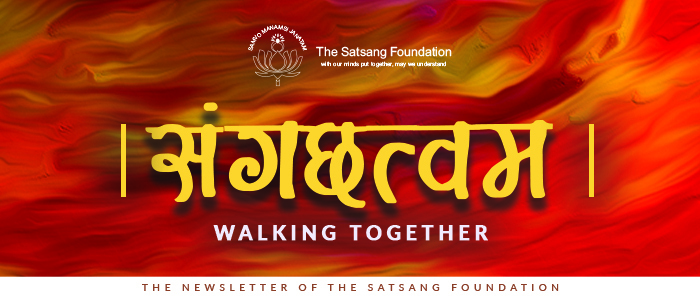 Household Duties on the Spiritual Journey
Duties are very important but our sense of duty or our concept of duty has been made so that a person lives his life depending on others and looks after those who are dependent on him. But I think, any original discovery, either in the field of the material world or in the field of the spirit, have been made with a great deal of sacrifice. One cannot get something for nothing.
An Update on The Sacred Grove : Centre for Exploring Consciousness

The Sacred Grove is set on 17 acres of land, surrounded by hills and paddy fields in the village of Pedda Kondamari, around 4 kms from Chowdepalle town, and roughly 29 kilometers from the headquarters of The Satsang Foundation at Madanapalle, A.P. The Sacred Grove is expected to be inaugurated by July 2022.
Satsang Jal Seva Sangatan activities across India
Inspired by Sri M's urgent call to promote and implement rain-water harvesting, this initiative ensures that every household and institution in India recycles water efficiently. Towards this, the SJSS is engaged in several activities across the country. Join us to make this initiative a success for us, our country and planet Earth
Upcoming Yoga & Teacher Training Programs
Join Bharat Yoga Vidya Kendra
Subscribe to The Satsang Foundation Youtube channel for Live Online talks & more
Sri M's memoir "Apprenticed to a Himalayan Master – A Yogi's Autobiography", which is a bestseller, its sequel, "The Journey Continues" and various books and texts on the Upanishads, on Meditation, on Patanjali's Yoga Sutras - 'Yoga also for the Godless' and books in the fiction genre are available in English, Hindi and other Indian and International languages are available online on Magenta Press & Publication website
Donate to The Satsang Foundation
The Satsang Foundation is actively involved in various initiatives in the fields of Education, Health and Environment across India, touching millions of lives, with the generous support of donors and volunteers. All donations to The Satsang Foundation are exempt from Income Tax U/S 80 G of the IT Act. This exemption is applicable for Indian Tax payers. Through GiveIndia, tax exemption can also be availed in the US and UK.