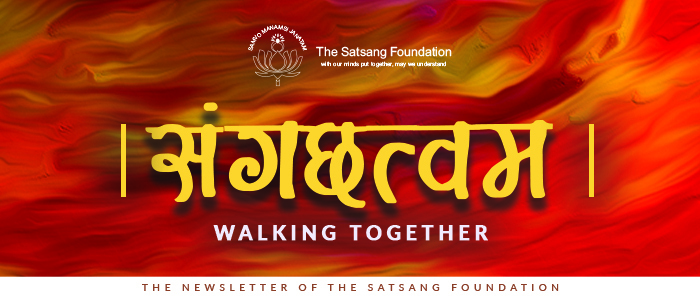 I come from the Nath sampradaya. People have a misunderstanding that Nath sampradaya believes only in Shiva. it's not like that, we believe that Govinda or the Supreme Being picks up the flute and plays on our sushumna nadi when it's absolutely clean, music comes through the seven holes, the seven chakras in the system. That's our understanding.
So therefore, having said this, I'm now going to tell you a short story.
What better than a Green Cover !
As the country recovers from Covid times people came back to support Mother nature and give back responsibly. Volunteers across the country dedicated their effort and time to plant trees. We invite people who would like to be a part of this movement to join hands with Mytree.

The Satsang Skill Development Centre (SSDC) Madanapalle, an endeavour of The Satsang Foundation was set up in November 2018, with the mission to enable the disadvantaged youth in the Chittoor District region (Andhra Pradesh) to tap into their innate potential and to make them financially independent and responsible citizens.
On the auspicious occasion of Guru Purnima, on July 24, Sri M inaugurated the Satsang Skill Development Centre's website.
Visit the newly launched website
The Satsang Seva Mission (SSM), an initiative of The Satsang Foundation, was founded in 2020 to serve especially at times of humanitarian crises and natural calamities.
A volunteer run organization, SSM responds rapidly to humanitarian crises with timely, tailored, and compassionate help. With generous help from donors, SSM has already touched over 2,60,000 lives across India. On the auspicious occasion of Guru Purnima, on July 24, Sri M inaugurated Satsang Seva Mission's website.
To learn more about SSM and to contribute, visit the newly launched website.
Subscribe to The Satsang Foundation Youtube channel for Live Online talks & more
For all books by Sri M in multiple languages, visit
Donate to The Satsang Foundation
The Satsang Foundation is actively involved in various initiatives in the Education, Health and Environment sectors across India, touching millions of lives with the support of donors and volunteers. All donations to The Satsang Foundation are exempt from Income Tax U/S 80 G of the IT Act. This exemption is applicable for Indian Tax payers.