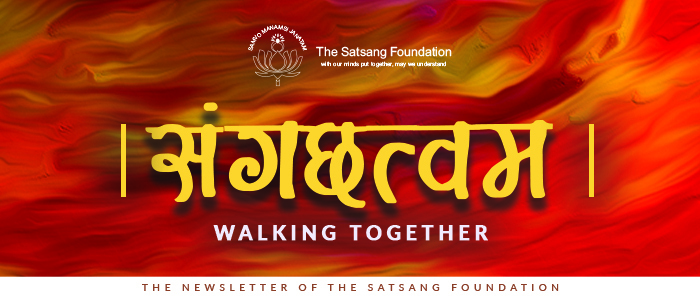 Face the Reality and See where you stand
The function of a spiritual teacher as has been taught by my Master is not to distribute lollipops. So everybody sucks on the lollipops and sits happily thinking this is the world. It is to face the reality, to look at life, to see where we stand, how we have improved, where we are moving forward, are we still the same or have we changed?
Breaking Barriers across 11 Indian Prisons
Sri M led celebrations of the International Yoga Day on June 21st this year, by inaugurating the 'Manav Seva – Beyond Barriers' initiative at the Poojapura Central Jail, Thiruvananthapuram with a yoga session for the inmates. Similar Yoga sessions were held simultaneously at 11 Central Prisons across India, as a part of the initiative that was launched two months ago to commemorate the 150th birth anniversary of Sri Aurobindo.
In record time, the civil infrastructure shell of the Swaasthya Hospitals has been completed. It is now time to furnish the interiors and create a state-of-the-art multi-speciality hospital, supported by technology, skill sets, processes and protocol. Your help will make a big difference.
Subscribe to The Satsang Foundation Youtube channel for Live Online talks & more
Presenting The Friend: Mind, Body, Soul, Well-Being by Sri M with Lady Mohini Kent Noon
Sri M is widely known as a spiritual leader and teacher. However, he believes, for him to truly connect with someone and guide them, they must be friends.
In this book, Mohini Kent asks him about love, life, religion, marriage, death and everything in between making it a one-stop shop complete collection of Sri M's teachings and philosophy.
Following the ancient form of a conversation between a guru and disciple, this book is easy to read and relatable for people of all ages.
Pre-order a copy now at Amazon, Flipkart or Magenta Publications.
Donate to The Satsang Foundation
The Satsang Foundation is actively involved in various initiatives in the fields of Education, Health and Environment across India, touching millions of lives, with the generous support of donors and volunteers. All donations to The Satsang Foundation are exempt from Income Tax U/S 80 G of the IT Act. This exemption is applicable for Indian Tax payers. Through GiveIndia, tax exemption can also be availed in the US and UK.