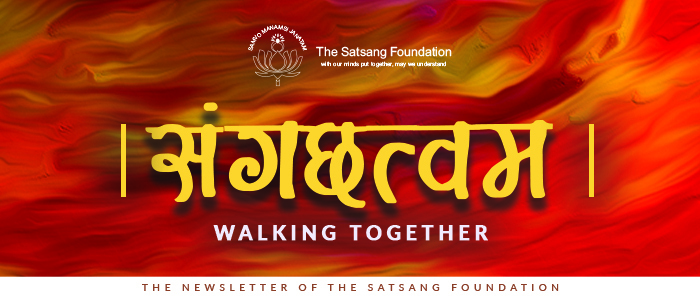 Yoga Dham at Haridwar, 9-20th March 2021
Mahashivaratri on the banks of the sacred river Ganga, during the Maha Kumbh in the holy city of Haridwar, was a welcome opportunity for everyone to meet and be in the presence of Sri M, after a long and difficult year made dreary by the pandemic and numerous lockdowns.
Graduation Day at Bharat Yoga Vidya Kendra
After more than a month of training at the Bharat Yoga Vidya Kendra, students of the first Yoga TTC celebrated their Graduation Day on 28 February with chants, bhajans and lot of laughter with Sri M. He personally handed over the certificates to all the Graduates and blessed them.
Magenta Enterprises has been created to offer natural and toxin free products for your well-being and for creating a better environment for the future. All the proceeds are utilised for various initiatives of The Satsang Foundation. We are making a small beginning with this and will be adding more natural products in due course of time.
All the recent live streams & online talks by Sri M in one convenient playlist for you to catch up on. Click to view as a single playlist. Don't forget to hit Subscribe on The Satsang Foundation
Donate towards the Langar Seva
Sri M says that a 𝑺𝒂𝒅𝒉𝒖'𝒔 meals are dependent on 𝑨𝒏𝒏𝒂𝒌𝒔𝒉𝒆𝒕𝒓𝒂𝒔 and 𝑩𝒉𝒂𝒏𝒅𝒂𝒓𝒂𝒔, and this is our chance to serve divinity every day. The Satsang Foundation is looking forward to continuing the 𝑳𝒂𝒏𝒈𝒂𝒓 𝒔𝒆𝒗𝒂 during the upcoming 𝑨𝒌𝒉𝒂𝒂𝒅𝒂 from April 6 to April 14 at Haridwar. Every small contribution will help in serving wholesome meals.
If you wish to associate with the 𝒔𝒆𝒗𝒂 with your contribution, please click on the Donate button.
All donations to The Satsang Foundation are exempt from Income Tax U/S 80 G of the IT Act. This exemption is applicable for Indian Tax payers.