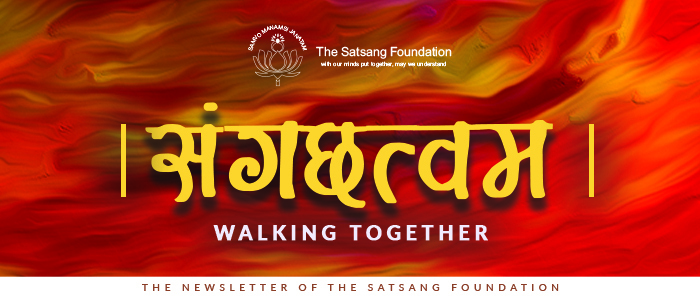 Kriya Yoga - Sri M's Parampara
Sri M was initiated into the practice of Kriya Yoga by his personal Guru Maheshwarnath Babaji, who was from the Nath Sampradaya (Tradition). His Guru was Sri Guru Babaji. The Naths were yogis par excellence. All the important works on yoga, like the Goraksha Shataka, the Gheranda Samhita, the Hathayoga Pradipika, and so on were written by Nath yogis. The asanas, pranayama, kriya yoga, bandhas, and mudras were practiced and perfected by them.
Bharat Yoga Vidya Kendra's celebration of 7th International Day of Yoga
Over 1700 yoga enthusiasts from India, Nepal, US, Canada, UK, UAE, Mexico, New Zealand, Australia, Singapore, Russia, France, Netherlands, Denmark, Kuwait and Brazil joined us for the special yoga sessions to celebrate International Day of Yoga on 21st June 2021.
Satsang Jal Seva Sangatan – Securing our Water Future
While the Government of India has initiated large scale measures to course correct water scarcity, we need micro-scale interventions - every sentient Indian citizen and conscientious organization will have to act. The Satsang Jal Seva Sangathan (SJSS) is an initiative conceived by Sri M in partnership with various government bodies, NGOs and experts to wake India up to the need to conserve water.
The name 'Bhramari' is given, as the sound one makes during the practice is similar to the sound of a humming bee. The benefits of this Pranayama are numerous and is considered as one of the important Pranayama. It has taken more prominence recently during the Covid – 19 pandemic. Recent studies mention that Bhramari increases the Nitric Oxide production and how this helps to strengthen the immune system to fight the pandemic. It can also be practiced if infected as it helps to recover faster. However, one should continue to follow all the prescribed medical precautions and protocols.
Subscribe to The Satsang Foundation Youtube channel for Live Online talks & more
Donate to The Satsang Foundation
The Satsang Foundation is actively involved in various initiatives in Education, Health and Environment sectors across India, touching millions of lives with the support of donors and volunteers. Please write to connect@satsang-foundation.org for more details.
All donations to The Satsang Foundation are exempt from Income Tax U/S 80 G of the IT Act. This exemption is applicable for Indian Tax payers.